34 Passenger Party Bus

- Enclave Edition

A party surrounded by luxurious vibes is the cherry on top! Similarly, choosing our wide range of party buses (small to large) will deliver an elite experience that you have always dreamt of. Our fleet has got you options to book your party bus for 40, 38, 36, and 34 passengers. Feel free to contact us for prom nights, bachelorette parties, birthdays, weddings, or any other events. Our team ensures that each and every client has an unforgettable experience!
34 Pass Party Bus
"Enclave Edition" in Chicago
This 34-passenger party bus is going to be the reason for beautiful everlasting memories of your next private event. The interiors are infused with spectacular disco lighting from the floor to ceiling that delivers the perfect night party appeal. Plus, the three-color carbofiber interior leather catches the frequent attention of you and your guests. Whether you choose our 36-person party bus or 34, you will be packed with luscious customized beverages and refreshments that ensure everyone is relishing while traveling. Give us an opportunity to be your dedicated chauffeur and make your party fun and safe!

Highlights of our Enclave Edition: 34-Person Party Bus:

• Full-on Entertainment with a premium 15,500 Watt Sound System
• Experience high definition videos with 65" LED TV and two additional 27" LED TVs
• Cleaned and well-maintained furnishings that can't take your eyes off
• Comfortable leather seats that are perfect for relaxing in between
• Specially customized light floors that make your dancing go easy
• Disco bars, ceilings & floors, and laser shows that build endless party mood
• Avail of iPod, MP3, and CD player along with AM/FM stereo makes a good atmosphere
• Include celeb amenities such as 2 VIP Disco Sections and 2 Stripper/Dance Poles

These are some exciting features you might be looking for on a 34-party bus to make your special occasion memorable. However, if you want an extra room for your invitees & more luxurious facilities, then go with our 38 or 40-passenger limo bus.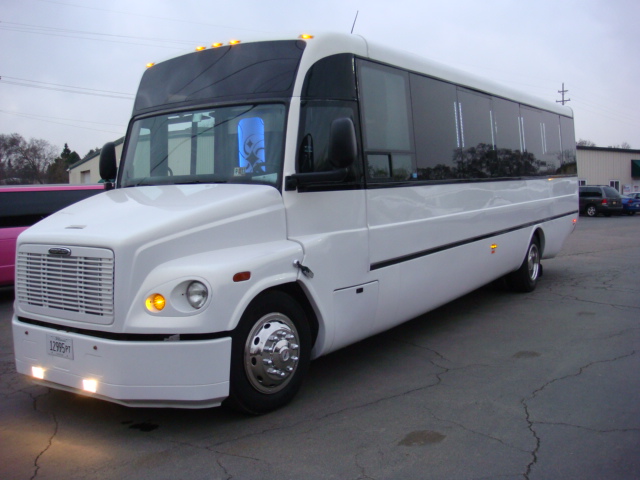 Why Choose 34 Pass Party Bus
To have a more private and exceptional party, our 34 Pass Party Bus is a favorable choice. It's a cost-effective yet classy decision you can ever make. Furthermore, we are the most convenient, honest, reliable, and safest Chicago limousine service provider. Hiring us means you don't need to end up with the stress of safe and timely pickup/drop. Our drivers are entitled to navigate your group through all the decided locations. In addition, there is no hassle about the inconvenience of traffic and parking.
Below are a few reasons that our clients prefer our party bus rental transportation services:

• The booking is just a few steps away. All you need to do is get your phone/laptop/desktop and fill out the easy yet short booking e-form.
• We believe in a transparency agreement. Every client request is taken seriously and ensured prior to the payment about what services will be inclusive in the package.
• Service quality is the key that we always value and which reflects on our amenities we provide you in our 34-pass party bus.

Most of our buses are accoutred with fabulous multimedia systems, on-board bathroom, and much more. Reach us for your upcoming occasions!