Chicago Limo Rental Services
Hire a Limousine

for Your Party

Are you looking to book a limousine with the best limo bus rental service in Chicago area and the surrounding suburbs this New Year? If so, then you're in the right place because at Chicago Limo rental Party Buses, we aim only to please. You will find a wide variety of limousine rental services accompanying different makes and models of luxury vehicles. Some of the best limo bus rentals include a white hummer limo, SUV limousine, and other party limo bus rental vehicles.

From the expansive range of limo fleet options, we will surely provide the right one for your adventurous needs and requirements. Unreliable limo bus rental services in Chicago are offering customers a bad experience. So, before you're approached by the wrong rental services, find out what makes Chicago Limo rental Party Buses special!
Our
SUV Limo Fleet

in Chicago

At Chicago Limo rental Party Buses, we want you to have an experience like never before. With different types of rental service demands in Chicago, we have diversified our range of fleet options. From big SUV and Hummer limos to an expansive range of party buses that are humungous in size, we make sure that partygoers have the best time.
You might be wondering, "how many people can fit in a limo typically provided by Chicago Limo rental Party Buses?" Do you know how many people does a limo hold at our rental services? To your surprise, we can accommodate a party bus size of anywhere from 4 to 34 people. Choose the right party bus size for special events. Our limos are widely equipped with comfortable leather interiors.
Apart from that, you won't find such spacious rooms and high seats elsewhere. Our Hummer H2 limo in Chicago is a lavish vehicle, and it's suitable for just about any type of party. You can also trust our Lincoln Navigator limo rental. Or, if you're really craving a large moving party that keeps rolling around, our Stretch Escalade can seat nearly 25 people spaciously.
Being one of the finest rental services providers in Chicagoland and beyond, we ensure a premium experience at affordable rates. Our leather and light-embedded SUV limousines are among the most sought-after vehicles in the market. Offering the latest models, Chicago Limo rental Party Buses makes a statement that we want to offer only the best.
Filled with extensive facilities and add-ons, our Naperville Limousine and Infiniti Limo can accommodate up to 25 party people! However, the said two options are highly suitable and extravagant for wedding getaways.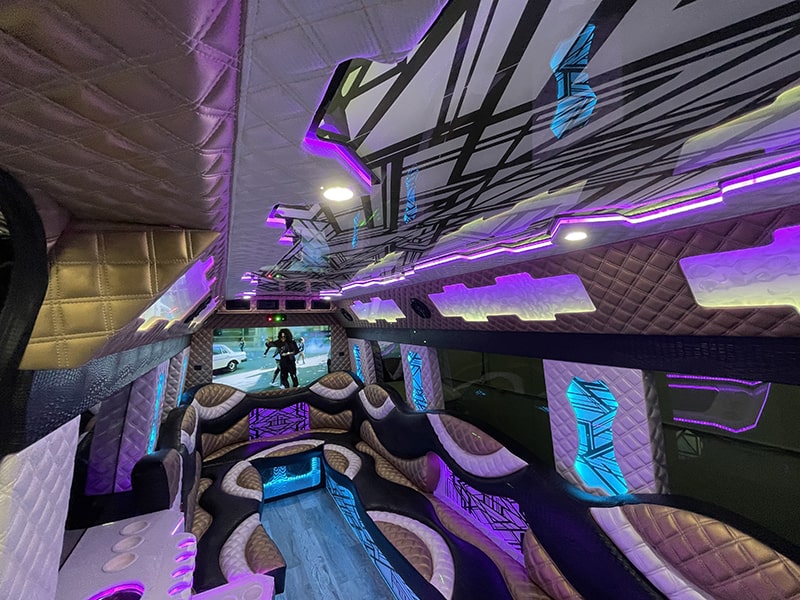 Our
SUV Limo Fleet

in Chicago

Check out our SUV limousine range for Chicago and beyond (surrounding suburbs):
• Hummer H2 Triple Axle (20 Passengers)
• Cadillac Escalade Stretch (20 Passengers)
• Hummer H2 White (25 Passengers)
• Infinity Limousine QX56 Hummer (20 Passengers)
• Lincoln Navigator Limo (14 Passengers)
• White Hummer H2 Double Axle (25 Passengers)
Our Limousines
Features
Whatever the occasion might be, we can have you living the American Dream for a night! Chicago Limo Party Buses and limousines are something most Chicago party enthusiasts crave. When you step outside the limo, whether it's your prom night, quinceanera, or wedding night, the red carpet service will surely make everyone feel like a star.

The Stretch Limo rental services include disco floors, a dance section, a powerful sound system, and exciting laser shows. Also, the rental has a leather interior, so the guests enjoy a comfortable experience. This goes on for nearly all the VIP limo rental vehicles at our rental service company seamlessly.

The sound systems are generally 15,500 watts to 8,500 watts. It is to make sure that you can dance the night away to your favorite jams. Also, there are multiple limo rentals that feature a 65-inch LED screen. For your information, if you haven't experienced a VIP limo service before, now's the right time to do it with the finest!
Limousine Rental Services for Your Party
All the licensed drivers at Chicago Limo Party buses are equipped with licenses, training, and plenty of experience. They are experienced in driving SUV limos, causal limos, and fancy party buses. For an exotic party experience, we offer many complimentary add-ons as well. With us, you will find everything from a bottle of champagne to a high-class sound system.
You can go with a lot of options from our amazing fleet. Some of the best vehicles include Stretch Escalade and the Lincoln Navigator Limo.
• Trip service data (whether a weekend)
• Point-to-point destination with a number of stopovers
• Party size
• Number of add-ons required with the limo rental service
The abovementioned factors are what you should keep in mind when planning to hire a limo rental for your part needs with us. 
Get a Free Limo Rental Quote Today!
Give us a call to receive a complimentary estimate!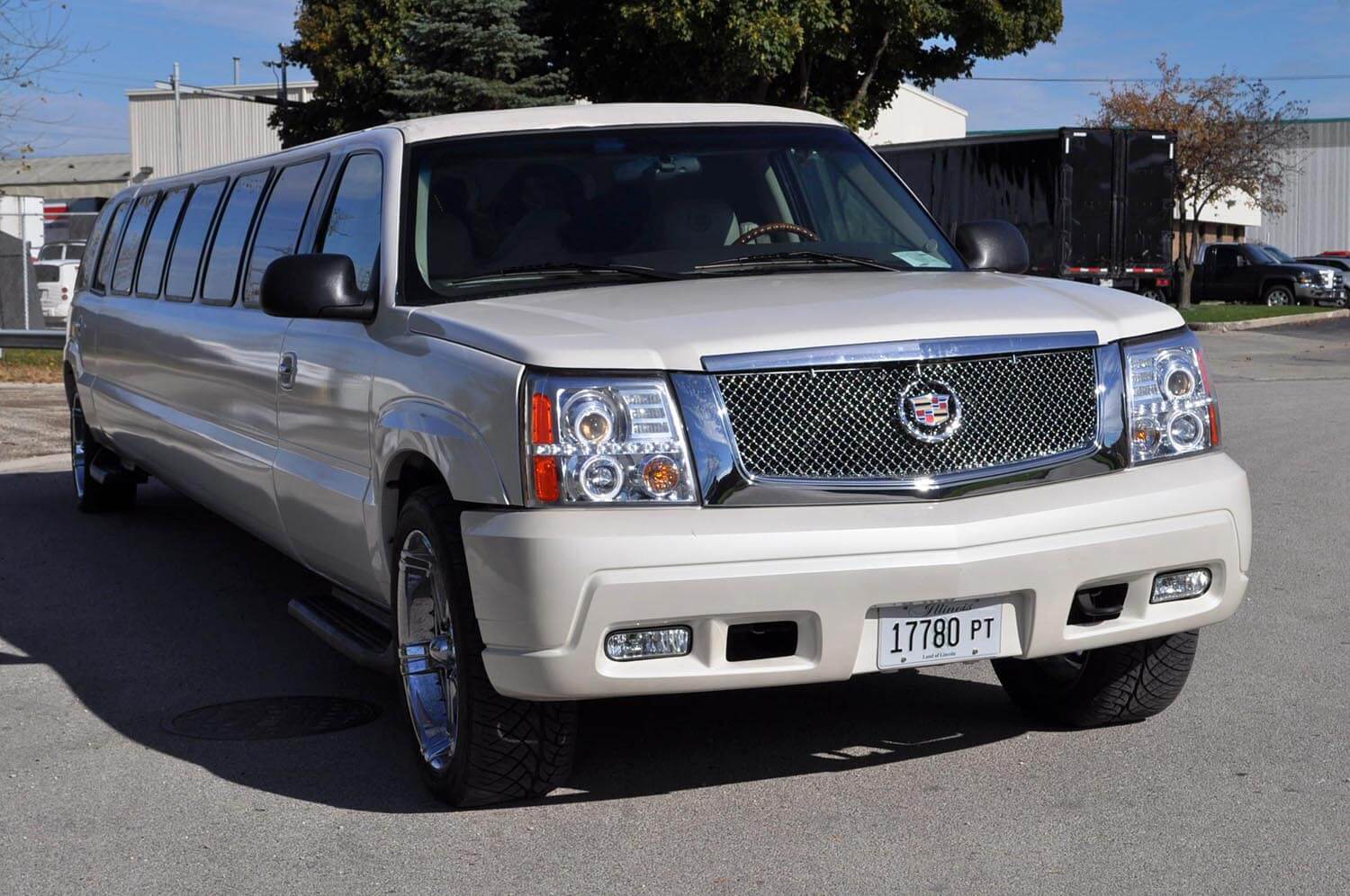 Already planned the right limo rental for your upcoming special events with friends and family members? Well, Chicago Limo Party Buses can level up your experience. We are equipped with the most trustworthy, polite, and licensed chauffeurs. They're highly trained and can keep their foot on the gas for as long as you wish. You special events at Chicago Limo Party Buses will definitely experience a new height of fun and joy.

Surely, once you're here, you won't go anywhere else to get the perfect party bus or SUV limousine rental in Chicago. You don't have to compromise on the luxury, fun, or excitement due to expensive rental services. Being affordable for huge parties, our opulent and loved SUV limousine rentals can make any special event memorable. With proper sounds systems, LED screen displays, and more, you can enjoy the finest!