Party Bus Services in
Elgin City
The first thing that is noticed upon entering Elgin is the community's pride in its diversity and cohesiveness. Elgin is about 35 miles northwest of Chicagoland. It is on the Fox River, which means it has beautiful waterways and lots of green space. Elgin accommodates a lot of Me Mexican people, so there are a lot of Mexican restaurants and shops to explore while traveling.

If you plan a celebration on the wheels and calculate how much the party booking costs on a luxury bus or limo, this is the right place!

We will take care of your rides in a luxurious way. Call us to book a bus service in Elgin or a limo ride in the area, and you'll be able to see the city in comfort and ease. The people who work for The Chicago Party Bus know how to make every bus or limo ride fun and interesting. If you need to learn how to book limo & party bus rental services, keep reading!
How to Book

Limo Party Bus in Elgin

The Chicago Party Bus company provides a quick and reliable channel for booking limos and buses. You just have to follow the online form-filling format accurately and let the rest of the preparations be on us.

Firstly, when you visit our official website's home page, you see an option to book now. You have to click on it, and an online form will load with the Get A Fast Quote button.

Secondly, fill in all the mandatory details in the form. For example, your name, contact number, drop-off address, event type, email, number of passengers, date, and time.

Before booking, you can also call us at +1(847)466-5364 to know all the details about the vehicle, including amenities and seating capacity.

After booking our limo party bus services, you can enjoy various attractions of Elgin. Some of them are discussed below: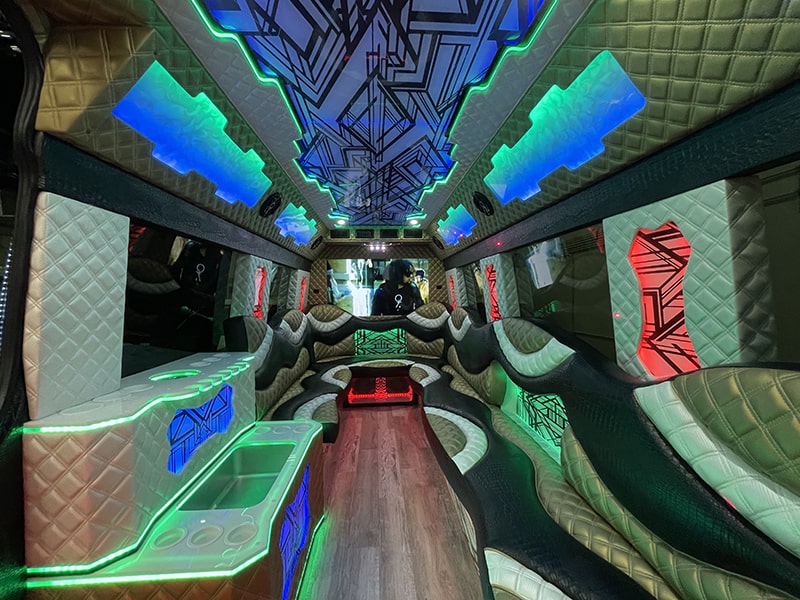 About Elgin City

Attractions
Elgin Depot Museum
The museum is in the historic Union Depot, built in 1903. It has a large archive collection and is where the community's historical photos are preserved. Volunteers and staff at the museum help with research, including questions about genealogy. In 2002, the building was renovated. The Elgin Historical Association runs the museum, which is open every Friday and Saturday from noon to 4pm.
Navy Pier
Come to the Navy Pier to see a different side of Chicago at night. Enjoy sitting on benches by the water, feeling the breeze from the water, and looking at the dark skyline of downtown Chicago. It is one of Chicago's most famous sights. The mood will be different during the day and at night.
Elgin Art Showcase Hosts a Live Performance
The old Professional Building, which has been open since 2007, is home to Elgin's newest performance and gallery space. They are well-known as organizers of visual art and cultural activities, and their downtown location provides stunning views of the Fox River. As a performance and visual art space that can be used for many things, they show art performances, exhibits, and installations. So you will find something that interests you.
Try Delicious Pastries at Herb's Bakery
Herb's Bakery has been making tasty sweets and savory baked goods for many years. It was started by a German family whose baking skills have been passed down over nine generations. It is known for its hand-made Kringles, cake donuts, and soft Bavarian German Pretzel rolls. The Chicago Party Bus Company offers special deals for Birthday Parties, Group outings, Bachelors Party, and Wedding Limousine rentals. We give our customers the quality experience that they deserve by keeping only the best limos and party buses.